Waterproofing
A basement foundation is no good to anyone if it's wet. COLEMANXCAVATION provides waterproofing services to ensure water never threatens your home.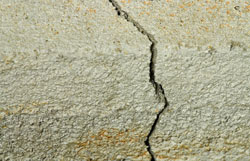 Damp-proofing your foundation walls is the minimum protection required by code, but COLEMANXCAVATION prefers waterproofing because it protects your home much better. What's the difference? Typical dampproofing hardens and can crack with your foundation while the Mar-Flex waterproofing product that we use doesn't harden and will stay pliable and flex with your foundation. It gives a greater assurance that no moisture will ever penetrate. We also offer window well installation, footing drains, a variety of Mar-Flex foundation drainage boards and 2-10 year warranty on our waterproofing products.
While a small crack in your foundation may not be a major issue today, that crack can expand and cause serious problems later. Luckily for you, COLEMANXCAVATION provides foundation crack injection repair. With crack injection repair, the crack can be fixed from inside the home without doing costly landscape damage to the exterior of your home. Our waterproofing services are provided throughout the Wasatch Front.
Serving Utah County including American Fork, Provo, Orem and Lehi, Utah.