Concrete Flatwork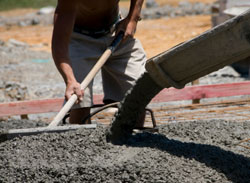 COLEMANXCAVATION also provides interior and exterior concrete flatwork. When done properly, concrete is a surface that can last for years. That is where we separate ourselves from the competition. Compaction and preparation of soils under the concrete can be the determining factor whether your concrete will last or not. Giving your concrete a gravel base will allow your concrete to withstand the freeze/thaw cycle that occurs in Utah. Using the correct mix of cement can also extend the life and finish of your concrete. Nobody likes investing in cracked and uneven concrete. Let us give you a finish that will stand the test of time.
Concrete Gallery Coming Soon!
Serving Utah County including American Fork, Provo, Orem and Lehi, Utah.